PMP c'est quoi ? Définition PMP – PMP Tunisie The Team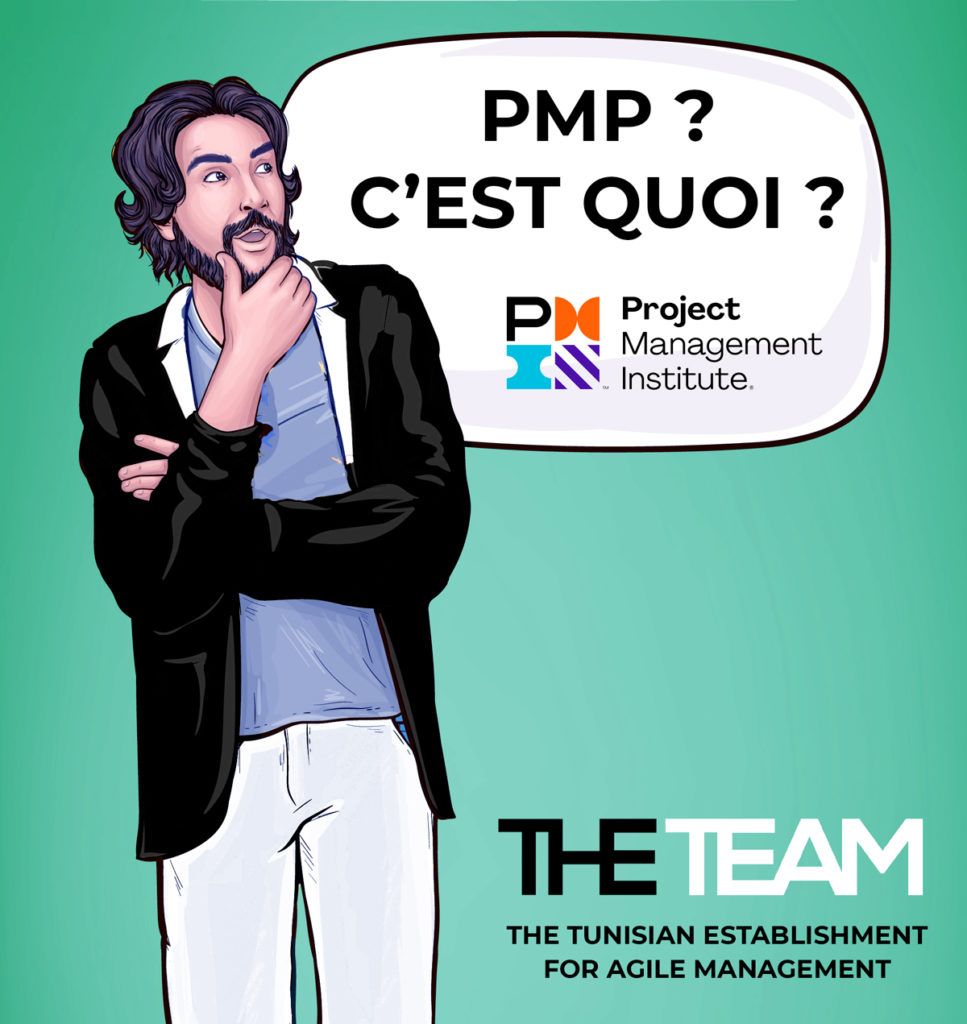 The TEAM, PMP Tunisie – PMP signifie Project Management Professional et est la principale accréditation pour les professionnels en gestion de projets.
PMP est basé sur le guide PMBOK (Project Management Body of Knowledge), qui est un guide créé et mis à jour par le PMI tous les 4-5 ans. Le but du guide PMBOK est de reconnaître et d'expliquer les Bonnes Pratiques.
Qu'est-ce que la certification PMP ?
La certification, délivrée par le PMI (Project Management Institute) est reconnue dans le monde entier.
cette certification requiert un réel engagement et une expérience avérée dans le monde de la gestion de projets.
La PMP augmente significativement la valeur marchande des compétences des professionnels certifiés et facilite la recherche d'emploi.
En effet, les entreprises recherchent des professionnels certifiés PMP afin de bénéficier de personnel qualifié, qui apporte beaucoup de connaissances et d'expérience.
Les avantages de PMP
Le processus de certification PMP requiert du temps, puisqu'il couvre de nombreux sujets.
Le processus de certification nécessite du dévouement. Cependant, les avantages parlent d'eux-mêmes, tant pour l'individu que pour l'organisation. Nous avons répertorié les 5 principaux avantages :
1. Nouvelles compétences
Le système de certification PMP comprend de nombreux nouveaux apprentissages. Il couvre à la fois les compétences techniques et les compétences générales et prépare le participant à être un chef de projet complet.
2. Reconnaissance mondiale
La certification PMP est universellement reconnu. elle est mondial et les techniques et compétences acquises peuvent être appliquées à tous types de projets. Ce diplome est indépendant de l'industrie.
3. Engagement envers votre profession
Ecrire «PMP» sur votre CV montrera à vos collègues, managers et recruteurs que vous prenez votre profession très au sérieux. Cela montre que vous êtes au courant des derniers développements en matière de gestion de projets et que vous avez envie d'apprendre et de vous développer constamment.
4. Faire partie de la communauté
Dans le monde, il y a environ un million de professionnels certifiés PMP. PMI organise régulièrement des événements pour ces professionnels afin d'augmenter les possibilités de réseautage.
5. Croissance professionnelle
La certification PMP augmente vos chances d'évolution de carrière et d'augmentation de salaire.
The TEAM, PMP Tunisie – PMP
Article de QRP International – All rights reserved. Lien original : Here