SAFe® Agilist
Leading SAFe TRAINING
Préparation à la Certification Officiel SAFe® Agilist
Training Duration : 2 Days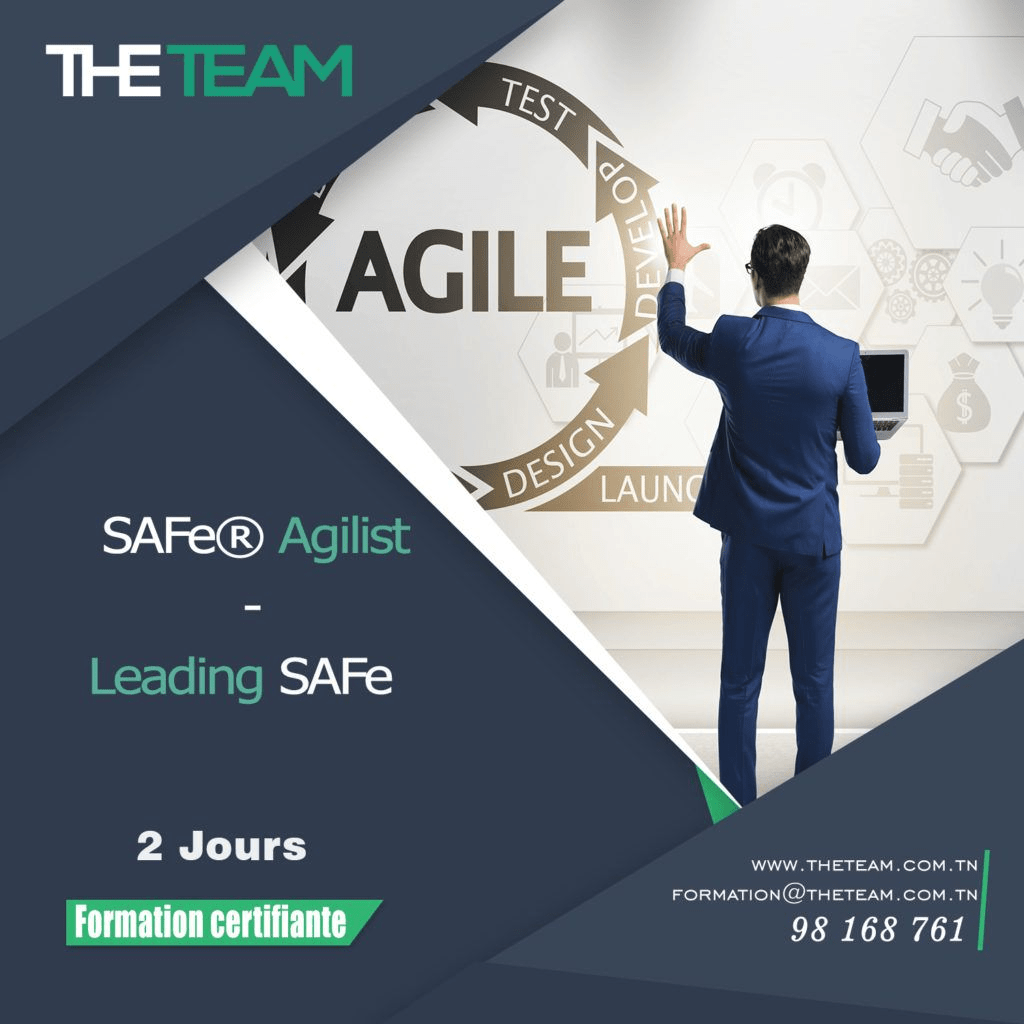 Acquire the knowledge necessary to lead a Lean-agile enterprise by leveraging the scaled agile framework® (safe®) and its underlying principles derived from Lean, systems thinking, agile development, product development flow and from DevOps.
Its objectives are to:
Prepare and pass the SAFe Agilist certification.
Inculcate Lean thinking in your teams and within your company.
Apply the principles of the Scaled Agile Framework methodology.
Align the production rhythm of your teams with the ART process (Agile Release Train).
Familiarize yourself with the fundamentals of agile program and portfolio management.
Put SAFe and Lean-Agile principles into practice.
This training is open to all company profiles and mainly to:
CEO
Program or project manager
Scrum Master
Business Analyst
Agile Coach
Portfolio manager
Consultant / Engineer
Program manager
Solution or system architect
LEAN AND THE PRODUCT DEVELOPMENT CYCLE
MAKING DECISIONS BASED ON ECONOMIC CRITERIA
IDENTIFY ROLES AND STRUCTURES
COLLABORATION, COMMUNICATION, AND ENGAGEMENT
PRINCIPLES OF THE AGILE RELEASE TRAIN
TRAIN CREATION
RUN A SPRINT
DEPLOY A SPRINT
DEFINING THE VISION OF THE PORTFOLIO
PORTFOLIO PROGRAM MANAGEMENT
IDENTIFY THE PRINCIPLES OF LEAN-AGILE LEADERSHIP
CHANGING THE ROLES OF SOFTWARE MANAGEMENT
END OF TRAINING
PREPARING FOR THE SAFE AGILIST CERTIFICATION