ACP: The Training You Need to Boost Your Career
Agile Certified Practitioner or ACP in short, is THE TRAINING YOU NEED TO BOOST YOUR CAREER. In fact, ACP is a high quality training provided by the Project Management Institute PMI to make you a skilled agile professional with an international profile demanded to work anywhere in the world. PMI-ACP certification is one of the most valuable certificate programs and is facing high demand globally.
Benefits of joining the Agile Certified Practitioner ACP training:
Helps you learn important soft and hard skills.
Makes your resume more attractive to companies.
Builds the knowledge of fundamental project management processes, tools, techniques, and methodologies.
Exposes you to best practices and current trends in agile project management.
Teaches you new tricks and techniques in project management activities.
Improves the way you manage projects.
Contributes to making your income higher.
PMI-ACP salaries:
Salaries of certified employees in PMI-ACP are surely higher than salaries of non-certified employees. In fact, in a recent survey made by PMI statistics showed that the average median salary for a project manager with PMI-ACP certification is $108,000 while it is only $91,000 for project managers non-certified.
For certified employees, salaries differ as well from one person to another as it depends on other factors such as the job role, the company hiring, and the country.
Below you can find some salaries for PMI-ACP certified employees in the United States for different job roles: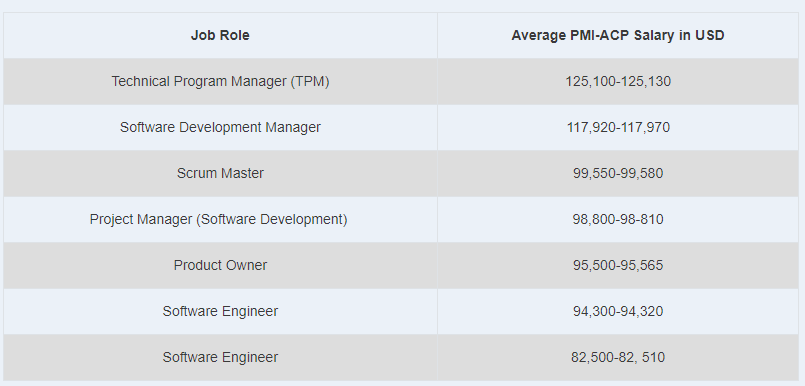 Below you can find some salaries for PMI-ACP certified employees in different countries:

Now that you have read this article about Agile Certified Practitioner, we are sure that you want to join us in one of our PMI-ACP training and why not get your international certification.
To read more about The Team's ACP program click here.
To read more articles click here.