Project Management
What is Project Management?
Project Management is getting things done while setting realistic objectives for the project such as: what has to be achieved, how to achieve it, how long it will take to be achieved, and the exact budget needed to accomplish the project. People involved in every step of execution should be fully aware of all details related to the project and do their best to achieve the already defined goals effectively.
In other words, Project management is using the right combination of skills and methods in order to deliver value to the market. It is about guiding the whole team's work to accomplish the goals already defined for the project within certain parameters.
Why is project management important?
The statistics below show some interesting statistics about Project Management:
Source of Data: Kissflow
Project lifecycle: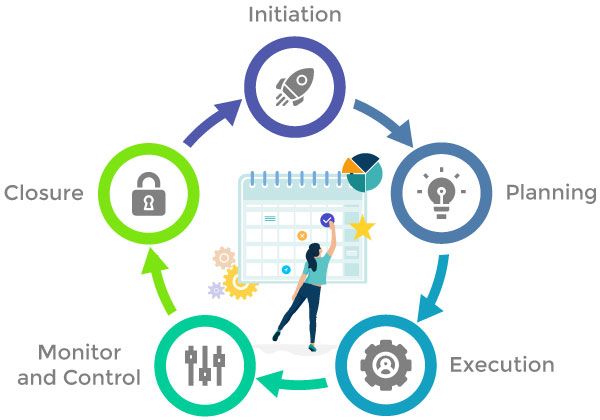 Initiation stage:

Identification of the problem
defining the goals
Identification of deliverables

Identification of the project stakeholders
Development of a business case

Planning stage:

Identification of the project timeline
Creation of workflow documents
Identification of the scope
Estimation of budgets
Gathering resources
Risk anticipation

Execution stage:

Creating tasks and organizing workflow
Explaining tasks to team members
Communicating with team members

Managing budget

Controlling stage:

Monitoring
Track effort and cost

Evaluation of the team's performance
Making sure that all aspects of the project are completed

Closure stage:

Comparing results to the defined goals
Providing reports to key stakeholders
Conducting a final analysis of the project
To join one of the The Team's training related to Project Management click here.