Project Management
Today, we are living in The Project Economy world. Projects have become the driving force behind how work is done, change is realized, and value is provided. Project Management has proven its importance as an organizational competence, a subject of education and professional training, and most importantly as a career path. But before digging into the details, let's start by understanding what Project Management really means.
What is Project Management?
Project management is using the right combination of skills and methods in order to deliver value to the market. It is about guiding the whole team's work to accomplish the goals already defined for the project within certain parameters.
More simply, Project Management is getting things done while setting realistic objectives for the project such as what has to be achieved, how to achieve it, how long it will take to be achieved, and the exact budget needed to accomplish the project. People involved in every step of execution should be fully aware of all details related to the project and do their best to achieve the already defined goals effectively.
Why is project management important?
The pictures below show some interesting data about Project Management: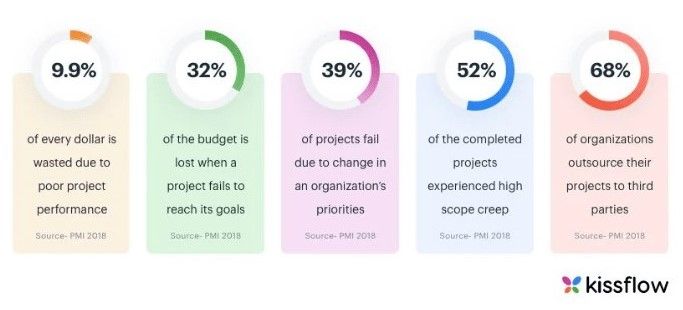 Source of Picture: Kissflow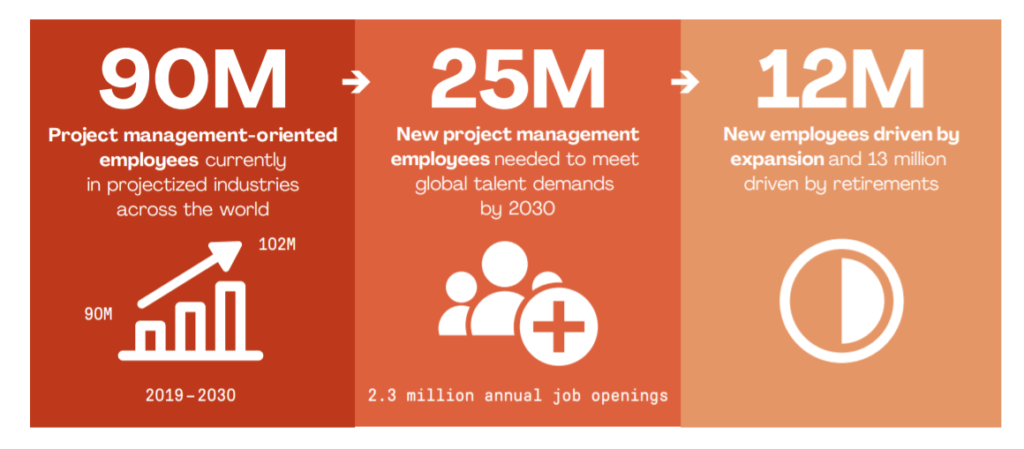 Source of Picture: The Project Management Institute
Steps of a Project: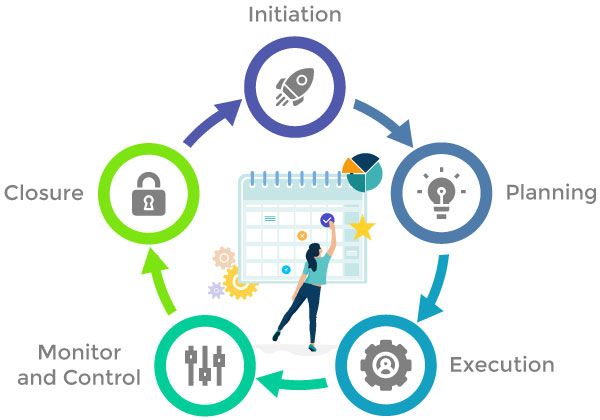 Initiation stage:

Identification of the problem

defining the goals
Identification of deliverables

Identification of the project stakeholders
Development of a business case

Planning stage:

Identification of the project timeline

Creation of workflow documents
Identification of the scope
Estimation of budgets
Gathering resources
Risk anticipation

Execution stage:

Creating tasks and organizing workflow
Explaining tasks to team members
Communicating with team members

Managing budget

Controlling stage:

Monitoring
Track effort and cost

Evaluation of the team's performance
Making sure that all aspects of the project are completed

Closure stage:

Comparing results to the defined goals
Providing reports to key stakeholders
Conducting a final analysis of the project
To join one of the The Team's training related to Project Management click here.
Consider Becoming Certified
According to The Project Management Institute researchers indicate that employers will need to fill nearly 2.2 million new project-oriented roles each year through 2027, which means that skilled project managers are going to be in an increased demand during the future decade.
PMP certification:
Certifications related to Project Management are in high demand nowadays, from professionals and individuals wanting to strengthen their resume and enlarge their knowledge. One of the best certifications in this field is The Project Management Professional (PMP). It is the world's leading Project Management certification. It is a highly valued certification for leadership positions anywhere in the world and across all industries. Organizations are demanding professional employees having this certification in order to work smarter and perform better. The PMP certification is created by project professionals, for project professionals, and guarantees that you are among the best in project management.
To read more about PMP click here.
To join The Team's PMP training click here.